Many thanks to Opera Scotland for the following review of our recent performance of Paradise and the Peri posted on their web site:-

---

Irish poet Thomas Moore (1779-1852) was a highly successful writer, and his Lalla-Rookh (1817) spawned a number of musical adaptations. These included French operas by Spontini (1821 and David (1862) as well as Russian (Anton Rubinstein 1863). One British composer, Charles Villiers Stanford, eventually had a go, with The Veiled Prophet (1879). None of these has survived in the general repertoire. Paradise and the Peri concentrates on just one of the four episodes in Moore's poem.

The plot of this work concerns a Persian myth - a tribe of fairies (Peris) has been expelled from Paradise. One Peri now makes every effort to achieve forgiveness until she is eventually re-admitted. The first attempt concerns her observation of the death of a Young Man killed in battle by Gazna. The Peri takes a drop of this innocent man's blood as an offering, but this is not sufficient. She then finds another young man dying, and this time he is being nursed by his lover, a Maiden. When he expires she dies of grief, and the Peri takes her dying sigh to the pearly gates as a second offering, but is still rejected. It is only at her third attempt that she succeeds. She finds a wicked sinner - a man moved to tears of repentance at the sight of an innocent child at prayer. She takes one of his tears, which is deemed to be sufficient to justify her re-admission to Paradise.

Schumann's cantata, described as a secular oratorio, was his first attempt at a large-scale vocal work. It was a decent success, with its Leipzig premiere quickly followed by performances in Dresden and Berlin. It soon reached London, with an outing at the Hanover Square Rooms.

There is much fine music in the work, though for anyone familiar with many of Schumann's wonderful songs the vocal style is perhaps unexpected. Until the final episode of rejoicing the tone is generally subdued, but never monotonous as the writing is so beautiful. In style it is reminiscent of composers of an earlier generation, including Weber, and with hints of Marschner and Spohr. Schumann was perhaps still searching for his own voice in large scale works. There are suggestions of early Wagner, especially in the utterances for the Angel.

Paradise and the Peri has appeared twice at the Edinburgh International Festival, clearly being much loved by the conductors Carlo Maria Giulini and John Eliot Gardiner. Most recently Sir Simon Rattle conducted it in the Royal Albert Hall at the 2023 Proms.

This performance from St Andrews took place in Dundee because the Younger Hall was closed for further renovation work. The audience clearly included many students who now commute from Dundee to St Andrews daily because of accommodation shortages in the small town.

The St Andrews Chorus assembled an excellent team of soloists. Jamie MacDougall has perhaps reached 'national treasure' status, not just as a singer and broadcaster, but even as a recorded voice reminding patrons at the Edinburgh Festival Theatre to switch off their mobiles. MacDougall has performed many times over the years, both in Dundee and St Andrews.

Other singers include three St Andrews graduates. Ben McAteer studied chemistry and has enjoyed a highly successful singing career since then, working with Scottish Opera, ENO, at home in Ireland and on the continent. His named character, Gazna, is very brief, but he has more to do not just as part of the vocal quartet, but also representing the sinner in the final section. He was in excellent voice.

Caroline Taylor studied languages before heading south to train at the RNCM in Manchester. Her voice was always a lyric soprano of exceptional clarity and sweetness. During her further training it has gained in power. Any fear that the vast Caird Hall would prove big was completely unfounded. She filled it with ease.

Rachel Munro's soprano was equally impressive - different in character and suitably contrasting. Christian Schneeberger's light tenor also projected clearly into the huge space. The mezzo, Tania Holland Williams, coped well with the hints of Wagner - perhaps not too surprising a feature of the music as Wagner's fourth opera, The Flying Dutchman, had only recently been premiered down the road in Dresden.

The concert began with two highly appropriate short works by other contemporaries of Schumann - Mendelssohn's hymn 'Verleih uns Frieden', then the Brahms 'Geistliches Lied, op30'. For choir accompanied by organ, these allowed us to hear the wonderful Caird Hall instrument in a very sweet-toned performance by Andrew Macintosh.

They only lasted five minutes each, so the members of the Heisenberg Ensemble sensibly sat in silence on stage, causing minimal delay before the main item. There was one fascinating novelty in the orchestration. The group of three trombones was augmented by a fourth player, his deeper but quite strange tone provided by the ophicleide, an instrument that had a brief currency during the 19th century. Last week during Opera North's season in Newcastle we heard a similar beast of Italian origin, the cimbasso, in use for works by Verdi and Puccini. This was a fascinating opportunity to contrast and compare - a modern symphony orchestra would use a tuba or euphonium.

There was a pre-performance talk about the pieces by Michael Downes at 6.45. This was packed out in the Marryat Hall.

The audience reception for this fascinating and very rare piece of romantic music was hugely enthusiastic.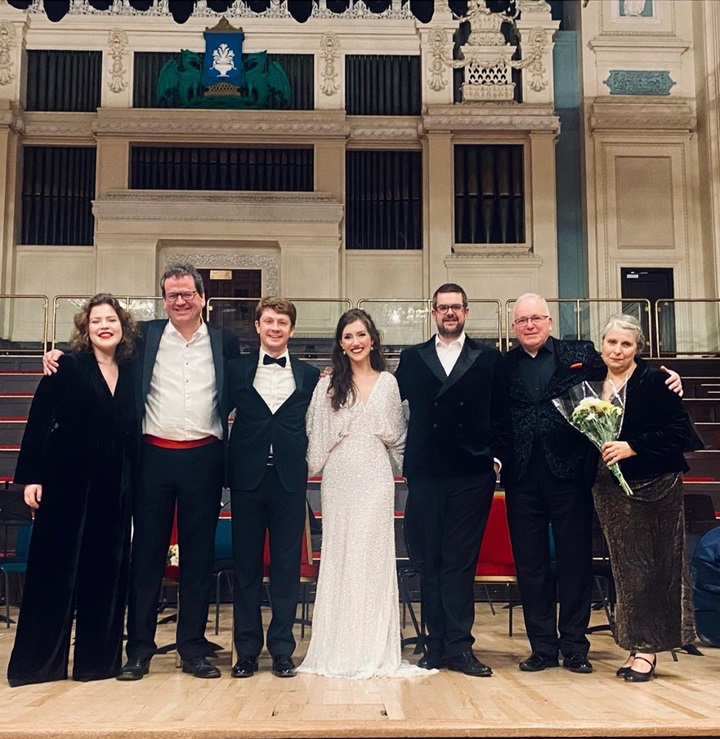 From left to right, Rachel Munro (soprano), Michael Downes (conductor), Christian Schneeberger (tenor), Caroline Taylor (Peri), Ben McAteer (baritone), Jamie MacDougall (Narrator), Tania Holland-Williams (alto)
---